A blood glucose monitor is a computerized device that helps to measure and display your blood glucose level. Similarly, these devices help monitor blood glucose levels in diabetic people at home.
If you have diabetes, you must check your blood glucose level several times daily. This regular monitoring is necessary to provide you and your doctors with valuable information about how medications, food, stress, exercise, and other factors affect your blood glucose levels.
Also, this information will help your doctor to plan treatment for maintaining your blood glucose.
Blood glucose monitor has many types available in the market for at-home use. These meters range from basic models to more advanced models.
Basic models read blood glucose levels only. The advanced models read blood glucose levels along with memory-storing information features.
The price of blood glucose monitors and glucometer strips varies but is available at reasonable prices at Pharmacy Stores. Before buying, you must study all options. If you have insurance, check which type of blood glucose monitor your insurance covers.
The total cost includes the actual cost of the meter plus the cost of testing strips and other supplies.
ask your doctor how to use it properly, when you have your blood glucose meter.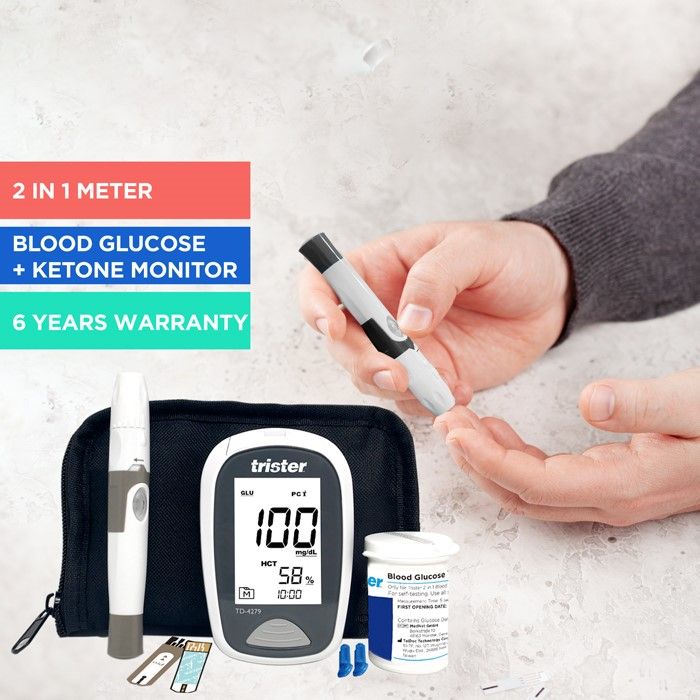 How does a blood glucose monitor work?
We can divide blood glucose meters into three different types, namely;
Invasive
Non-invasive
Continuous
Invasive:
In an invasive blood glucose monitor, the measurement is made by taking a blood sample. The glucose levels are measured by using glucometer strips, lancets, and a lancing device.
These elements are available in kit form at the time of the purchase. Subsequently, lancets and new strips must be replaced for safe use. An invasive type of blood glucose meter is the most accurate method of measuring blood glucose levels.
Non-invasive:
Minimally invasive or non-invasive blood glucose monitors are equipped with Physicochemical sensors. These sensors are in contact with the measurement area – usually the arm.
These glucose meters scan your blood glucose levels instantly. In such types of meters, there is no need to replace lancets and new stripes regularly. Moreover, there is no need to prick the fingertips for taking a blood sample.
Inaccurate measurements are the biggest disadvantages of a non-invasive glucose monitor. Inaccuracy is due to physicochemical sensors that are often not placed properly.
Continuous Glucose Monitoring:
Continuous glucose monitoring (CGM) as the name indicates offers the possibility of continuous measurement. Hence, diabetic patients wear the device arm and take it everywhere.
This type of glucose meter is equipped with advanced features such as an implantable sensor and a remote transmission system. It measures blood sugar levels in the interstitial fluid.
It allows for monitoring changes more accurately in blood glucose levels over a long time. While using continuous glucose meters, there is no need to prick your fingertips every day.
The continuous system has some limitations such as its maintenance. Learning how to use the device and interpret the data properly is difficult.
These reasons limit the use of continuous glucose meters.
How to choose the best glucometer?
Various things are needed to be focused on while choosing a glucose meter. There are several questions to ask yourself before you choose a blood glucose meter such as:
Does your nurse or doctor suggest a specific blood glucose monitor ?
First, you should ask your doctor or nurse before choosing a glucose meter. These people can guide you properly.
What does your insurance cover?
Second, If you have insurance, your insurance company will provide you with a list of preapproved meters it covers. Make sure that your insurance will cover the cost of testing strips and lancets.
What is the price of a glucometer?
Third, Some blood glucose monitors are expensive. Insurance companies do not always make allowances for expensive meters. There is a long-term cost of testing strips because they are replaced regularly. Insurance companies set a limit on how many strips per month or in a year.
Trister Glucometer is one the best glucometer available in the market at a reasonable price. It has all the advanced features and it is very easy to use the Trister Glucometer.
How easy is it to use this blood glucose monitor?
Each meter has a different testing procedure. Some meters require more work than others. In such procedures, how much blood does the test strip require for blood glucose level measurement? Can you easily read the numbers displayed on the screen?
How long does it take to get a reading using a blood glucose monitor?
Glucose meters are designed to take readings in as little as a few seconds or a minute. These meters are fast and give results within a few minutes.
Can a sugar test machine store your readings?
Keeping a record of your blood glucose levels is important. It provides your doctor with valuable information.
You can write down your blood glucose readings in a notebook. In such a case, there is no need to buy glucose meters with the memory storing information feature.
However, if it is difficult for you to keep your record, it is better to use a glucose meter with a memory-storing information feature. Some glucose meters are designed to create logs that you can retrieve later. Moreover, some glucose meters are designed to download the record file and can be emailed to your nurse or doctor.
Please note, you should Set your meter date and time correctly.
Do you want any special features in the blood glucose monitor?
While traveling, people want to use its compact form that is easy to carry. Some people do not carry small models properly. They prefer large meters that are convenient to use.
Some glucose meters have a verbal command feature. People with impaired vision may prefer a meter that has verbal commands and prompts. They usually prefer an easy-to-read screen.
Adding to that, there are meters designed for children. they have colorful options to make children more comfortable with the device.
Other notable features include:
backlit screens, which make reading in low light or at night easier
wide range of memory storage
verbal capability, for people with vision impairments
different handling capabilities, such as having a USB meter or having the strips stored in the meter
meters that record insulin doses and carbohydrate grams with the glucose reading
meters that can test blood ketone levels along with glucose levels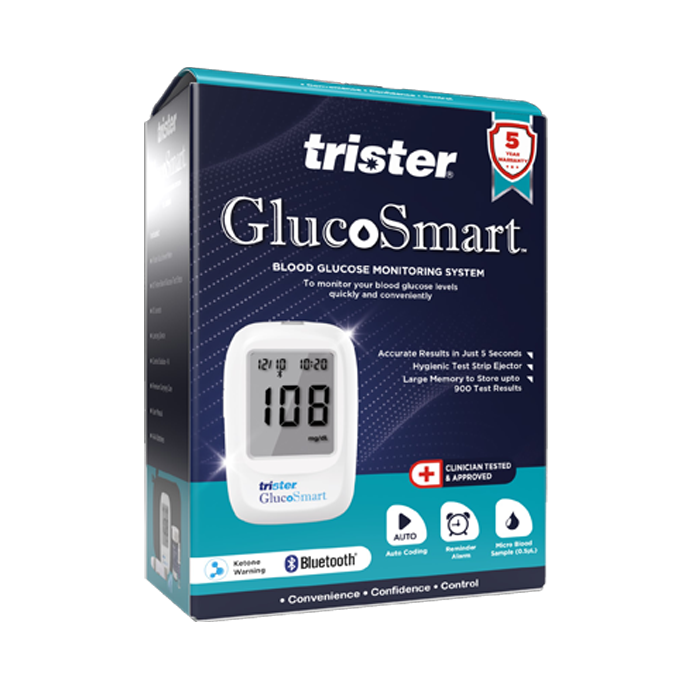 Factors that can affect readings of a blood glucose monitor
The accuracy of test results depends on several factors. These factors include the quality of your meter and test strips, and how well you have been trained to operate the glucose meter. The other factors that can affect your glucose readings are the following:
First of all, the environment
Room temperature, humidity, and altitude can affect your blood glucose readings. These factors affect your readings by altering your body or the strips you use. Some glucose meters come with a complete guide on how to get accurate readings in particular situations.
Secondly, the blood glucose monitor user technique
An operational error by an inexperienced user is the number one reason for errors in glucose readings. Read the instruction guide properly. It is better to practice testing your blood glucose with your nurse or doctor.
thirdly, Incompatible test strips
Testing strips are expensive. To save money, some people use generic or third-party strips. You can get inaccurate readings if your glucose meter does not have the feature of using blood glucose test strips. It is necessary to use test strips that are compatible with your glucose meter. Check the expiration date on your testing strips. Expired strips can provide incorrect results.
Fourthly, Dirty testing site
Lotion, food, or drink residue on your hands can affect your blood glucose reading. Before taking a glucose test, wash and dry your hands properly. If you use an alcohol swab before pricking your fingertips, let the site dry completely before testing. In such a case, it is better to use the second drop of blood for correct readings.
Fifthly, Changes in meters or strips
Manufacturers may make changes to their blood glucose monitors or test strips. Generic strip manufacturers or third-party manufacturers do not know about these changes most of the time. In such cases, testing strips may become incompatible with your blood glucose monitor and you will get an incorrect reading.
Call the manufacturer of the glucose meter if you want to know about the particular testing strip that will work with your blood glucose meter.
Finally, Use your blood glucose monitor properly
Carefully read the instruction guide to get accurate readings.
Carefully review the instructions provided by the manufacturer to ensure accurate readings. The U.S. Food and Drug Administration (FDA)Trusted Source requires that blood glucose monitor manufacturers provide a detailed instructional guide in the machine's packaging. Call the manufacturer if you have any questions.
Take your glucose meter to your doctor, nurse, or healthcare team to understand how to use it properly. They can appropriately guide you.
When you are at your doctor's clinic, compare your glucose meter results with the glucose meter at your doctor's clinic. In this way, you can check the calibration of your machine – your machine is correctly calibrated.
Let the team member, doctor or nurse observe you doing a test so they can confirm that you are using the correct techniques to measure blood glucose levels.
Final Verdict
There are many different types of Blood sugar monitors on the market. These blood sugar monitors help diabetic people to monitor their blood glucose levels regularly. Educate yourself with the instruction guide to use the glucose meter correctly. Ask your nurse or doctor for any recommendations.